News >> Media and More >> Institute Update >> Featured Presentations
Members of the Board of Directors and Advisory Council at The Institute for Preventative Sports Medicine have continued to present information throughout North America on our injury prevention health care cost containment approach. The Institute and Dr. Janda were selected to hold a prominent position within the American Academy of Orthopedic Surgeons Annual Meeting in San Francisco, California. In particular, The American Academy of Orthopedic Surgeons held a press conference on children's sports injuries. The Institute's research on break-away bases, padded soccer goal posts, heading, and chest impact fatality scenario were all highlighted within this press conference. In addition, Dr. Janda was selected to be one of the featured presenters at the Michigan Orthopedic Society recently in Traverse City. Dr. Janda presented the topic of The Politics of Prevention: Breaking Down the Barriers. In addition the Institute was selected to become one of the founding organizations of the National Alliance for Safe Sport, which is based in London, Ontario, Canada. Under the guidance of Dr. Ned Amendolla and Dr. Peter Fowler, a member of our Advisory Board, the National Alliance for Safe Sports has made significant inroads on the issue of injury prevention within sport in Canada. The Alliance will be holding an International Conference in August of 2001 in conjunction to the Canada Games. The Institute, as well as Dr. Janda, was honored to be selected as one as the keynote presenters on the issue of prevention at the conference. The Institute was also selected by EnabledOnline to present our injury prevention research. EnabledOnline is one of the preeminent sites for disabled athletes. It is truly an inspirational site for all to visit. In addition Dr. Janda has been selected to present on a regular basis a column entitled An Ounce of Prevention on MomsTeam. MomsTeam is one of the most comprehensive sites for the lay public as well as medical professionals as it relates to sports issues as well as prevention. It was truly an honor that the Institute and Dr. Janda were selected to author this column on such a prestigious site. Dr. Janda was also selected to be the keynote speaker for the Big Ten Directors Conference. The Institute's research was highlighted at this event to all members of the Big Ten recreational and intercollegiate athletic departments. In addition the Searle Corporation selected the Institute and Dr. Janda to present on the role of injury prevention within the medical community. It was an honor that such a large corporation would select the Institute as well as Dr. Janda to highlight our research as it relates to benefiting our collective community.
Institute's Feature Presentations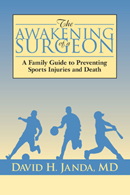 The Awakening of a Surgeon . . . Click here for more information.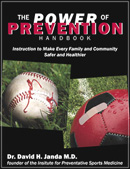 The Power of Prevention . . . Click here for more information.