About Us >> Mission Statement

The Institute for Preventative Sports Medicine is a non-profit organization with a two-fold mission: to conduct medical research oriented to finding effective and practical ways to reduce sports-related injuries and speed the rehabilitation of injured athletes; and to develop resources to fund research for the same purposes, by other researchers and institutions.
The goals of the Institute are: to achieve healthier, safer sports activity for recreational, amateur and professional athletes, by reducing the frequency and severity of sports-related injuries; and to reduce the costs of acute health care and rehabilitation. These goals may be achieved through a wide range of endeavors, including but not limited to: development of protective equipment, rules modification, conditioning practices, injury treatment techniques, and instructional methodology.
The Institute for Preventative Sports Medicine is the only organization in the United States devoted to the development of preventative sports medicine practice. Many other institutes, clinics and research groups exist for the treatment and rehabilitation of the injured athlete. But the Institute for Preventative Sports Medicine is unique in directing its efforts to preventative measures - the only measures which offer real opportunity to preserve life and well being, while reducing health care cost.
Funds for research and operation of the Institute are obtained entirely through tax-deductible contributions from individuals, foundations, corporations, and by grants from public and private agencies. The Institute for Preventative Sports Medicine does not make or support commercial endorsements for its financial development.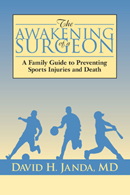 The Awakening of a Surgeon . . . Click here for more information.
Click here to see Dr. Janda on Oprah.com.